Date: 3/22/2001


hkinteractive.com provides integrated e-Commerce solutions using J2EE on Sun Solaris 8, Oracle 9i platform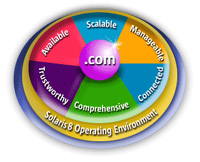 Starting in March 2001, hkinteractive.com, the technical consulting arm of Chi Tao Studio begins to provide integrated e-Commerce solutions for clients using J2EE standards for software development and implementations based on the latest SUN Microsystem's Solaris 8 and Oracle 9i Platform.
Sun's unwavering focus on the power and reliability of UNIX right from the start -- a commitment that continues today -- has made the Solaris 8 Operating Environment the most highly suited for taking advantage of the opportunities created by the Net Effect.
Solaris 8 software offers data center-class reliability, availability, and serviceability at a fraction of the cost of a mainframe, with powerful features such as Automatic Dynamic Reconfiguration, Dynamic System Domains, and Solaris Network Cache and Accelerator. The Solaris 8 platform is the only OS in the study that can arbitrarily add and remove CPUs online.
The Solaris Operating Environment is the leading UNIX environment today. Solaris software was originally designed with the Internet in mind. TCP/IP, the central Internet protocol, has been at the core of Solaris networking for more than 15 years. Through its time-tested design -- a small, stable kernel, modular and extensible components, and well-defined interfaces -- the Solaris platform delivers rock-solid stability and predictability for business-critical applications.